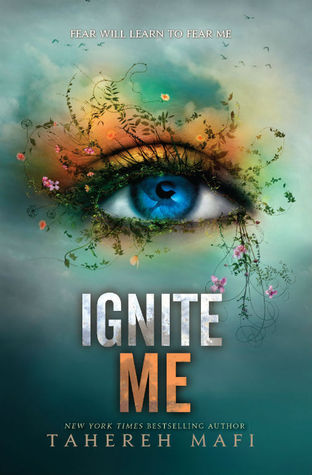 Where do I even begin with the third book in the Shatter me series? I guess with the physical book itself. It is beautiful!! The cover feels nice, the colour of not just this book individually but the three together is nice and the eyes are a wonderful design. I love the bird in there which is written in books one and two.
I guess from there we move on to the story! I love the new attitude that Juliette has developed since book two. She sort of went from a wimpy crying girl to a strong woman and I like her much better this way. We also see a change in a few of the other characters. Kent goes from the sexy military man to a moody grumpy person ( I guess the mood is understandable).
The most shocking change for me was Warner, I made a complete turn around with my feelings towards Warner because we got to see a completely different side to him. Yes he is stiff and hard, Yes he says exactly what he feels and controls an entire army but does he love Juliette?absolutely and does he he ever lie to her? No he never does.
I would like a little bit of Warner for myself. I found myself smiling whenever he called Juliette 'Love'. Other books use terms of endearment like love and I usually hate it as its too cheesy but when Warner does it I believe him and that it is something that he would say.
I love how the characters interact in this section of the trilogy maybe even more than any of the other two books. I feel like I completely know Juliette and Warner.
I would have loved to have more but that doesn't mean there wasn't enough it only means that I cant get enough of the story I want to know what happens next to this gang. Do they ever manage to do the things they say they are going to? Do they change the world?
I was completely captivated.
If there was more I would read it all!! I cannot think of any more ways to tell you how much I love this book and the entire series. I will read everything Tahereh Mafi has ever and is ever going to write!!
Do yourselves a favour read this series NOW