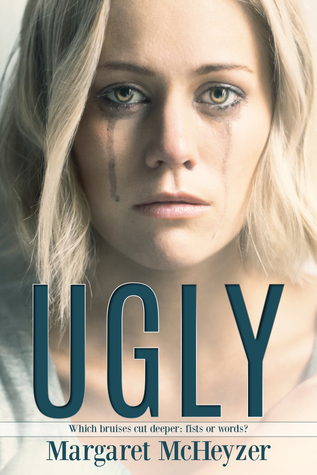 If I were dead, I wouldn't be able to see.
If I were dead, I wouldn't be able to feel.
If I were dead, he'd never raise his hand to me again.
If I were dead, his words wouldn't cut as deep as they do.
If I were dead, I'd be beautiful and I wouldn't be so...ugly.
I'm not dead...but I wish I was.
*This is a dark YA/NA stand-alone, full-length novel. Contains violence.
First off I think it is very brave for Margaret McHeyzer to attempt such an upsetting topic and also to just get straight into it from page one but I really appreciated her for it. The whole story is not only terrifying but also thought provoking and extremely powerful. It could teach a lot of people a lesson, myself included. Ugly did not feel like fiction to me, it could have been the story of any girl that has ever been mistreated and I think that is what made it such a heart wrenching read.
How an adult can treat a child the was that Lily is treated is beyond me and this happens in real life not just in stories The book starts with a little Lily hiding from her dad in the closet because he beats her when he has had a drink, he also starves her and calls her horrid names. It is obviously not the ideal start to Lily's life but she gets on with it and survives however she can.
Lily meets a boy named Trent and I got excited because he was wonderful...... to begin with. He shows her what she has been missing out on and helps her when she needs it. Turns out Trent was the Devil in a teen boy's body. He was wicked and vile.
Lily doesn't really understand kindness until she starts to work in a local supermarket and meets Shayne. Who I love by the way. She cares for Lily like a sister and pushes her just enough for Lily to realise that she can do whatever she wants.
Lily is such a likeable character that it is hard to imagine all of these horrid things happening to her but then I suppose that the point isn't it? That you don't really know what is going on behind closed doors or sometimes even right in front of your face.
What I enjoyed the most about this story is that because it is a standalone I got to read about Lilly at several different stages of her life from childhood (If you can call it that).
I like a book that has a message and this one has a strong one. Never give up. Be strong. You're worth it. pick any of those and it will be true.
I Love Love Loved this story.