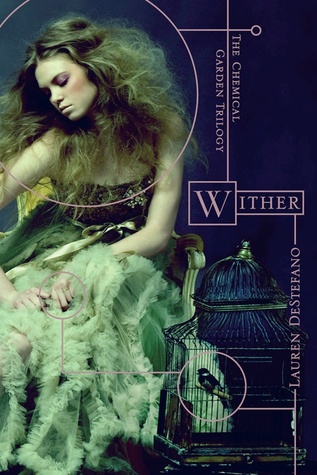 By age sixteen, Rhine Ellery has four years left to live. She can thank modern science for this genetic time bomb. A botched effort to create a perfect race has left all males with a lifespan of 25 years, and females with a lifespan of 20 years. Geneticists are seeking a miracle antidote to restore the human race, desperate orphans crowd the population, crime and poverty have sky rocketed, and young girls are being kidnapped and sold as polygamous brides to bear more children.

When Rhine is kidnapped and sold as a bride, she vows to do all she can to escape. Her husband, Linden, is hopelessly in love with her, and Rhine can't bring herself to hate him as much as she'd like to. He opens her to a magical world of wealth and illusion she never thought existed, and it almost makes it possible to ignore the clock ticking away her short life. But Rhine quickly learns that not everything in her new husband's strange world is what it seems. Her father-in-law, an eccentric doctor bent on finding the antidote, is hoarding corpses in the basement. Her fellow sister wives are to be trusted one day and feared the next, and Rhine is desperate to communicate to her twin brother that she is safe and alive. Will Rhine be able to escape--before her time runs out?

Together with one of Linden's servants, Gabriel, Rhine attempts to escape just before her seventeenth birthday. But in a world that continues to spiral into anarchy, is there any hope for freedom?
I loved this idea and it was unlike any thing I have ever read before. its a grim concept and not a very nice world to be born into but the girls have to keep on having babies to keep the human race alive.
The story starts with Rhine and her Twin brother who both have one blue eye and one brown eye. They look after one another because their parents died trying to create a cure for the horrible virus.
Girls in this book are not treated nicely. they are sold, killed or married off at any age. Rhine doesn't feel lucky that she was sold as a bride but she is terrified of the alternative.
Becoming a bride happens quickly and Rhine has two sister brides. One older than her and one younger. I liked that through the three girls you got to read about a variety of reactions to their situation. Rhine just wanted to escape nothing else. That was her plan from day one and she stuck to it.
I found it scary to imagine being locked in a van, not knowing where you are going and then watching the terror unfold around you as you get kidnapped and gassed.
A lot of the negative comments relate to the child bride aspect of this story and yes its disturbing but that's the point!! Its not normal to have a bride aged 13 but then this book isn't talking about normal things. It's just the world that the story is set in.
I liked the characters, I found them all interesting because they all had their own back story and as each story unfolded you were able to understand the character a little bit more.
I am hoping that we learn more about this mysterious virus and I hope they manage to find a cure. Maybe I will find out in the next instalments. I will be picking them up shortly because it was a quick fun read.
I read this book in two sittings and it was a really easy read.