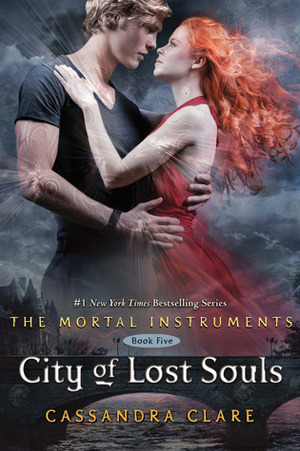 The Mortal instrument series continues in this 5th book in the set. What price is too high to pay, even for love? When Jace and Clary meet again, Clary is horrified to discover that the demon Lilith's magic has bound her beloved Jace together with her evil brother Sebastian, and that Jace has become a servant of evil. The Clave is out to destroy Sebastian, but there is no way to harm one boy without destroying the other. As Alec, Magnus, Simon, and Isabelle wheedle and bargain with Seelies, demons, and the merciless Iron Sisters to try to save Jace, Clary plays a dangerous game of her own. The price of losing is not just her own life, but Jace's soul. She's willing to do anything for Jace, but can she still trust him? Or is he truly lost?

Love. Blood. Betrayal. Revenge. Darkness threatens to claim the Shadowhunters in the harrowing fifth book of the Mortal Instruments series.
This is one hefty book at 535 pages it has taken me a little while to get through it. This book has multiple plots going on and is written in many chapters and mostly split into different parts of the story. It was a little complicated to start with as I had a long break between City of Fallen angels and this one.
The book was really tricky to get into and the first half of it is really difficult to trudge through but the second half is interesting enough to make me want to carry on with the next book after a break from the shadow hunter world for a while.
Clary felt a little more stupid in this book if that is possible and she put herself into situations that were dangerous.
Clary is as irritating as ever with her soppy worship of Jace. I just couldn't get into their romance in this book at all and there was soooo much soppy romance.
I didn't understand the whole evil Jace/ good Jace thing, Evil Jace wasn't that much different to normal Jace. He didn't seem brainwashed enough to be doing the things that Sebastian was making him do. He just didn't seem different at all and that plot could have been so much better if he was just a little bit more evil.
Simon is still as awkward as he ever was but that isn't a bad thing because it makes me believe his character so much more. I like the relationship between Simon and Isabelle I think they are good for each other. They both seem to be finding themselves together and growing as characters which is lovely.