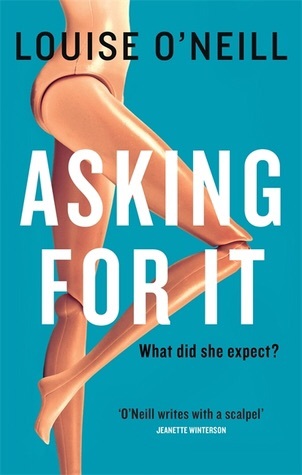 It's the beginning of the summer in a small town in Ireland. Emma O'Donovan is eighteen years old, beautiful, happy, confident. One night, there's a party. Everyone is there. All eyes are on Emma.
The next morning, she wakes on the front porch of her house. She can't remember what happened, she doesn't know how she got there. She doesn't know why she's in pain. But everyone else does.
Photographs taken at the party show, in explicit detail, what happened to Emma that night. But sometimes people don't want to believe what is right in front of them, especially when the truth concerns the town's heroes...
Obviously this book is very controversial and at parts it was very uncomfortable to read.
I have never read anything by Louise O'Neill before so I didn't know what to expect from her writing but I was completely happy with her writing style.
Once you have read what the story is about you understand that it will be very difficult to read. It most certainly was not a happy read at all.
Asking for it made me very angry because some of the characters brush what has happened to Emma under the carpet and try to forget about it as though its just one of those things. I was angry because even Emma's parents wanted the situation to just go away, the only support Emma had was her brother but he was very angry too.
The book made me sad because it seems unlikely that Emma will ever get over the incident and she herself felt that she should just drop the case so that her parents can get on with life as it was even though life will never be the same again for Emma.
At first I was angry at the ending