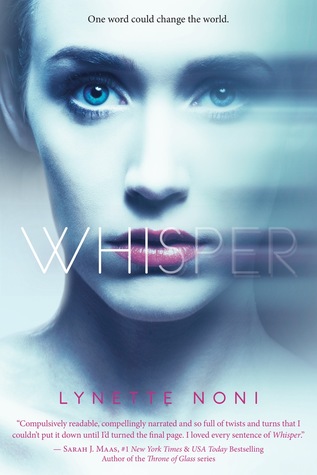 "Lengard is a secret government facility for extraordinary people," they told me.
I believed them. That was my mistake.
There isn't anyone else in the world like me.
I'm different. I'm an anomaly. I'm a monster.
For two years, six months, fourteen days, eleven hours and sixteen minutes, Subject Six-Eight-Four — 'Jane Doe' — has been locked away and experimented on, without uttering a single word.
As Jane's resolve begins to crack under the influence of her new — and unexpectedly kind — evaluator, she uncovers the truth about Lengard's mysterious 'program', discovering that her own secret is at the heart of a sinister plot … and one wrong move, one wrong
word
, could change the world.
This book is a hybrid of the Darkest Minds Series by Alexander Bracken and the Shatter Me series by

Thahereh Mafi both of which I absolutely loved and so it is pretty safe to say that I loved this book

too.
You see Jane grow in both strength and confidence throughout this book as she discovers who she really is and what she is capable of. The transition from weak mute girl to strong Bad ass is gradual and so you don't really realise everything has clicked until you are shocked into it.
I loved the differences between Ward and Kael. Ward was a favourite for me from the beginning, I found him interesting and a little mysterious. I didn't think he seemed like a bad guy and then he was horrid and I felt like oh yeah he is an ass. I'm still a little unsure on whether Ward, Kael and Jane are going to be a love triangle, If i am being honest I really hope that this will be the one series where she picks a guy and sticks with him but I think we are leaning towards a love triangle.
I don't think I have ever read a book that was set in Australia so that was a new element which I found quite exciting. I really really enjoyed this book and look forward to the series. Its definitely up there with one of my favourites this year so far.
Thank you to NetGalley for a free copy of this book.